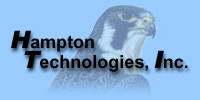 ---
---
---
Hampton Technologies, Inc. designs and builds Supervisory Control & Data Acquisition systems for science, industry, homeland security and defense.
We manufacture high capacity data loggers for remote locations
We manufacture conditional air samplers including: Relaxed Eddy Accumulators (REA), Compass Sector Accumulators (CSA) and custom designed systems.
We use an open architecture SCADA protocol allowing components to be distributed among many widely separated locations -- linked via radio, Internet, wireline, cell phone, etc.
We build Safari Grade hardware -- tested for heat extreems and vibration and intended for remote locations (perilous places).
We connect instruments and RTUs to the Internet using secure virtual private network (VPN) protocol.
We build Safari Grade componets used by our OEM customers building their own systems.
We support System Integrators putting systems together for their clients.
We have experience with these technologies: Radio, Microwave, Ethernet, Internet, Linux, Infrared, Spectroscopy, IRGA, Telescopes, Photon Counters, Cryogenics, Photomultipliers, Constant Flow Pump Control, Valve Control, 16 bit A-to-D converters, Conditional Atmospheric Sampling, Embedded Microcontrollers, Audio Systems, Radar Control, Data and Telecom Switching, Machine Tools, Industrial Power Transmission, Variable Speed Drives and Industrial Process Control.
---
&copy 2001-2008 Hampton Technologies, Inc. Colorado, USA
&copy Hampton Technologies, Inc. - Colorado, USA - 2HTI.com - Manufacturing: Robust Radio and Internet Connected Electronics for Recreation, Commerce, Science, Industry and Defense. Our products include: Rapid Deployment Radio (RDR) systems for both data and voice, comprehensive software development tools as well as hardware kits for building communications, remote control and data acquisition systems. Our customers integrate our radios, tools and hardware modules into products and systems they design and build. Some examples are: remote two-way communications systems for farms, ranches, outfitters, hunters and disaster relief; remote surveillance systems; SCADA systems for oil fields, mining, water management, power generation and distribution; remote scientific instruments; automated point-of-sale kiosks; etc.
When security is an issue, we provide virtual private networking software (VPN).
Last modified: Jun 18, 2018